Jeff Nabors
Freelancer
B2b and b2c Technology content writing, game design and gaming content writing
About Me
---
This is a stock photo. Who writes by flashlight these days?
I make stuff, on the internet.
I'm a freelance writer experienced in content writing for gaming, game design, technology, cryptocurrency, and others.
Writer focused on content writing, including articles and blogs.

Content Creator specializing in Podcasts and Live Streaming

Experienced as a Content Manager for an Indie Game Magazine.

Professional Dungeon Master with over 14 years of experience behind the screen.
My Writing
---
I currently freelance for a number of clients, covering a variety of topics from B2B and B2C technology, consumer technology, and the gaming industry.

After graduating from the University of Central Florida's Web Development program, I spent time as a software developer before pivoting my talent to content writing. I have worked on both B2B and B2C content writing for software companies, helping them enforce their branding and explain complex technical information in an easily digestible format.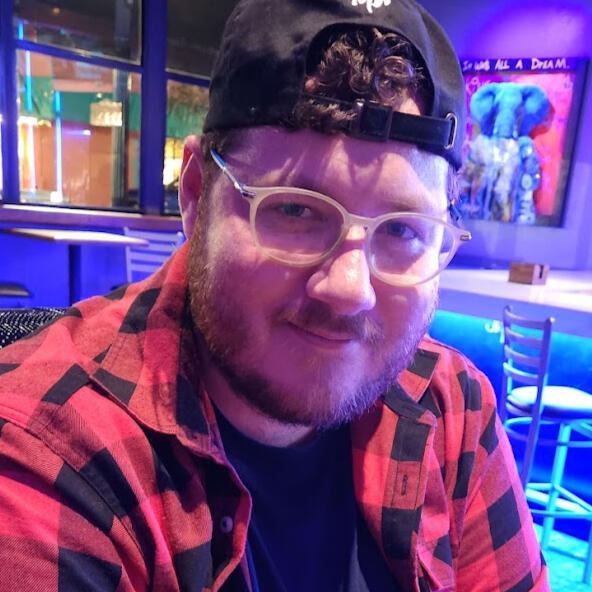 Podcasting
---
I began podcasting in early 2020 with the launch Reroll Expectations before being hired to host and produce the Chasing XP Podcast in October 2020.
An Actual-Play Dungeons and Dragons podcast written, hosted, edited, and produced by me. The show began in 2020, and ended in late 2021.
The Chasing XP Podcast is an interview-style show with some of the most brilliant minds in game design and development. This show was hosted, written, edited, and produced by me. This show ran from late 2020 to mid 2021.
Are You Looking for a professional Dungeon Master?
You've come to the right nerd!

I've been playing TTRPGs for over a decade now, mainly with homebrew D&D campaigns. I started a D&D podcast named Reroll Expectations, which ran for about two years. I've recently been helping write homebrew content for some indie TTRPG publishers.

I've opened up my time to offer a few paid TTRPG sessions. While I mainly specialize in Dungeons and Dragons, I am open to learning new systems at a discounted rate.
What does a paid dungeon master offer?
A professional and fun Tabletop Role-Playing experience for all ages and experience levels, hosted by a Dungeon Master with over 14 years of experience. I bring everything you need to have a great time with my sessions. All you need to do is show up!

Engaging, entertaining TTRPG sessions tailored to you and your party's needs. Whether you want a homebrew campaign or one of the official WotC campaigns, we can do it.

"Rule of Cool" dungeon master style, where player agency and fun overrides the need to memorize hundreds of pages of fun. There's no need to worry about knowing every edge case rule at my tables, as long as the players have fun and balance issues don't ruin the experience.
Interested in working together?
Fill out the form below and let's get started! I typically respond within 24 hours.